We, Macrogen Inc., provide four payment options as listed below and you may use the most convenient method of your choice.


In order to reduce inconvenience and difficulty in processing a payment, we highly recommend you to use our prepayment system. Without a separate request email from you, the amount of the invoice that you have to pay will be automatically deducted from your prepayment account. Also, the payment confirmation will be shown on our website if you log in to your account.
Please contract our team for assistance. Payment-sg@macrogen.com

Additional offer with prepayment service
The additional offer that was given for prepayment will be provided with the Mileage point instead of the Macrogen credit coupon due to Macrogen's new prepayment policy effective September 2013.


| Amount of Prepayment | Complimentary Benefit | Credits Available |
| --- | --- | --- |
| USD(EUR) 1 ~ 4,999 | 10% Mileage points | 0.1P ~ 499 P |
| USD(EUR) ≥ 5,000 | 20% Mileage points | ≥ 1,000 P |

Mileage : You can gain mileage points when prepayment is done within 1 month from the issued date of invoice.
For more information regarding the mileage system, please click the link below.

https://dna.macrogen-singapore.com/eng/support/mileage.jsp

- You will be receiving 10% Mileage for the total amount of the invoice which is below 5,000 USD.(4,999 USD -> 499 Points)
- You will be receiving 20% Mileage for the total amount of the invoice which is over 5,000 USD.(5,000 USD -> 1,000 Points)

- Macrogen offers an opportunity to deposit a designated amount as Mileage points in your personal account, where every sequencing reaction history will be recorded. Also, you can authorize your colleagues to use the mileage from your account.

- This payment method allows you to allocate and manage your research funds with increased flexibility. Further, with this mileage system, you can enjoy a transparent overview of every sequencing reaction you order.\

- A complimentary benefit is provided for online LIMS user only.

- The prepayment deposited via Macrogen Advanced Service is not refundable.

Go to "payment" to check your order and payment status.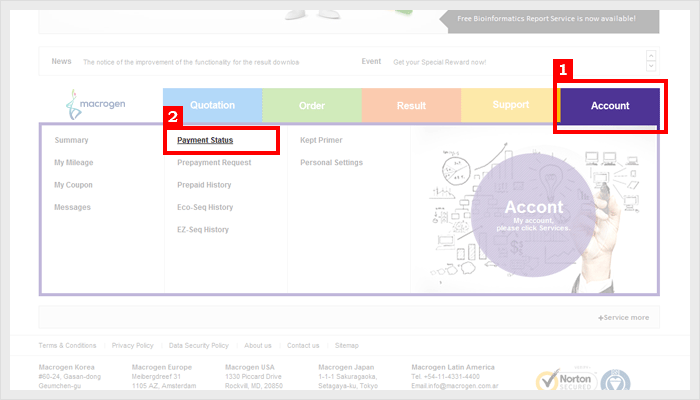 List of the payment status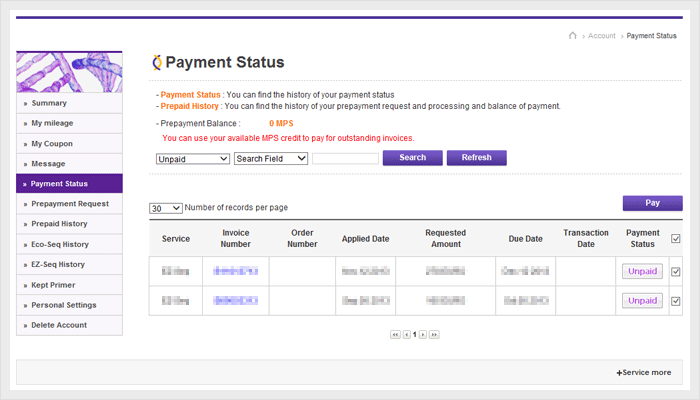 To find unpaid invoices: Click [check box] for one or more invoices to pay.


And click [Pay].




(Click [Invoice number] : You can download an invoice.)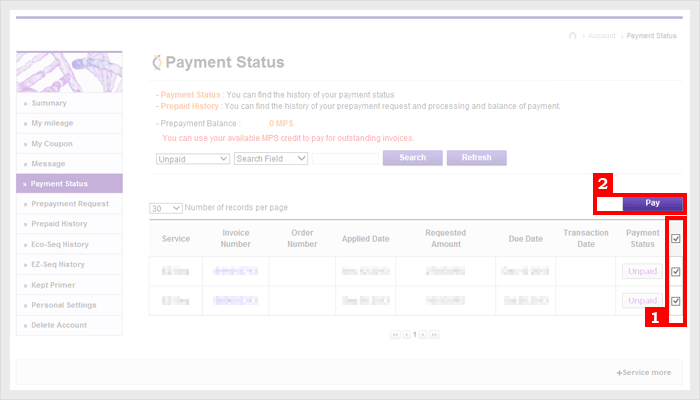 Click [Invoice detail List] to find your order information.


Check if the name of accountant and contact information is correct.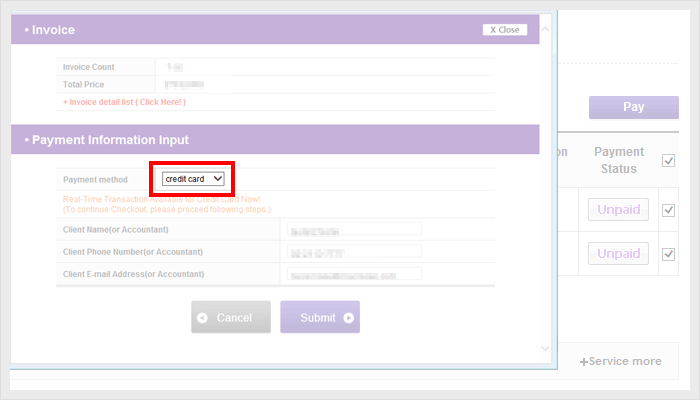 Choose "credit card" as your payment method. Click [Submit]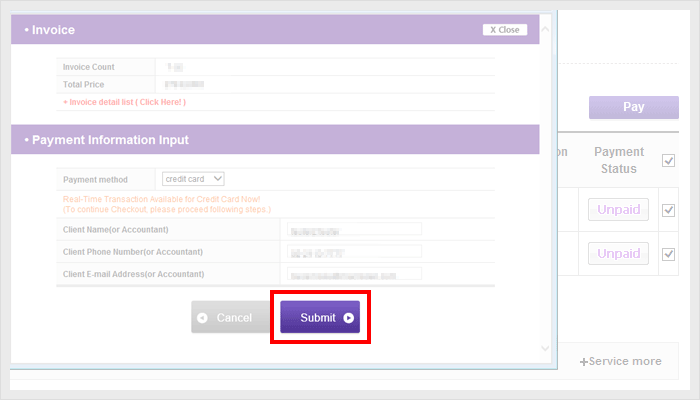 Invoice is downloadable from the URL. Choose between Visa or Mastercard.


If you do not want to proceed, click "close".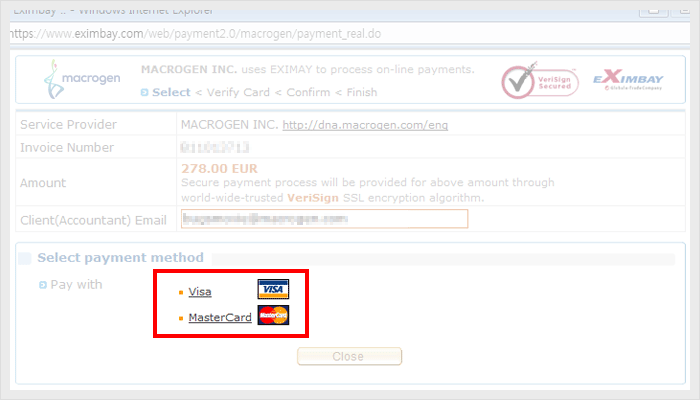 Fill out the credit card information; card number, expiration date, cvc and card holder's name.


All of your information will be secured by Verisign.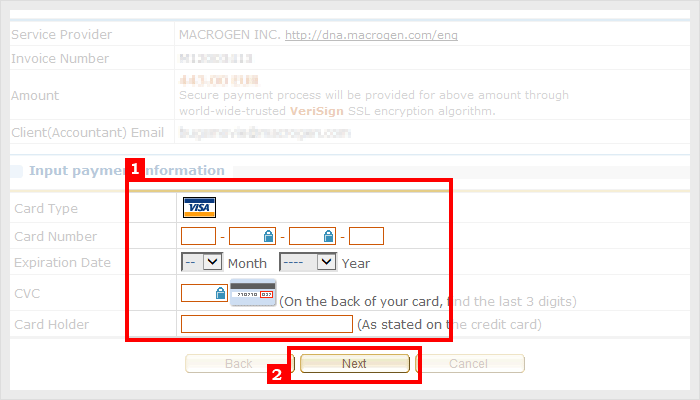 Submitting the credit card information, you will get a confirmation e-mail from Eximbay,


the online transaction processing system.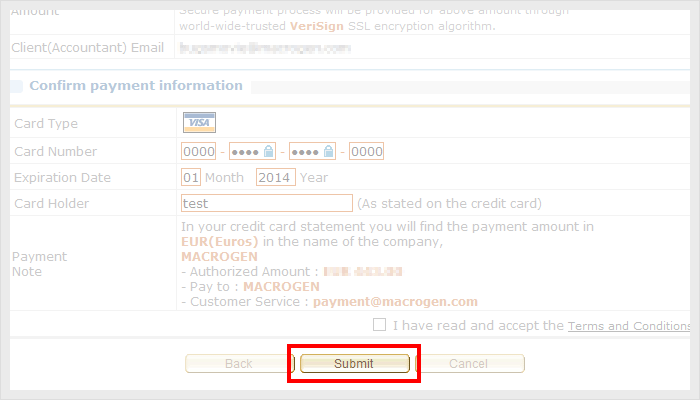 Choose your prepayment group. Click [Submit]


This service is not available if MPS credit is insufficient to payable amount.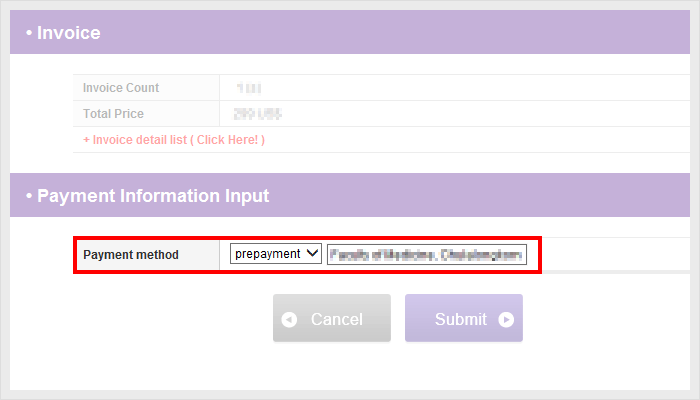 For any inquiry, please contact to payment-sg@macrogen.com.

Wire transfer
If you wish to use the Wire-Transfer To Bank Account,
Please indicate this invoice reference number as reference in your payment.



Macrogen Asia Pacific Pte. Ltd. Account
Beneficiary : MACROGEN ASIA PACIFIC PTE. LTD.

Account Number : 712725654001 – SGD
BIC Name: OVERSEA-CHINESE BANKING CORPORATION
BIC Code: OCBCSGSGXXX
or
Beneficiary : MACROGEN ASIA PACIFIC PTE. LTD.

Account Number : 503480519301 – USD
BIC Name: OVERSEA-CHINESE BANKING CORPORATION
BIC Code: OCBCSGSG / Bank Code : 7339

Fee for international cash transfer is not included in the invoiced amount, and this should be paid from sender's end.

Cheque
If you would like to use a cheque, please inform us at Payment-sg@macrogen.com with reference number.

Please send your cheque to:
MACROGEN ASIA PACIFIC PTE. LTD.
3 Biopolis Drive #05-18, Synapse, Singapore 138623

* Important note:
i. If you have additional unpaid invoices, which have not been settled, you are not permitted to place a new order.
ii. Additional 1.5% per month of total amount due shall be charged if payment is made after the due date.
Please contact us within 14 days if any discrepancy is found in this invoice.